How Google Makes Money from Mobile
It's Official: Google says more searches are now on mobile rather than on desktop.
More Google searches take place on mobile devices than on computers in 10 countries including the US and Japan.
Google has managed to transform itself into a "mobile first" company. Currently, the majority of Google's $8B run-rate mobile revenue derives from advertising (excluding Motorola)therefore they are restructuring the way its pay-per-click advertising platform, AdWords, works — Google wants more businesses advertising on mobile, so it's making mobile PPC radically simpler with the introduction of enhanced campaigns, as well as new mobile conversion types, offer extensions and a mobile app ad type, all specifically created to address mobile-centric use cases.
Comscore previously released a report and graphic, showing the relative volume of US-based search queries on PCs, tablets and smartphones. Overall the company said that in Q4 2014, US mobile queries (tablets + smartphones) were roughly 29 percent of total search volumes. This is across the entire industry.
Let's See How Mobile Advertising Has Changed: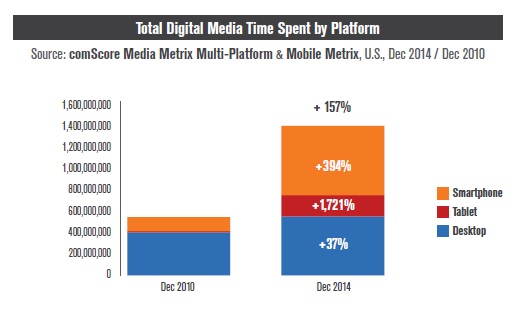 Smartphone usage is up 394 percent, and tablet usage is up a whopping 1,721 percent as these platforms now combine to account for 60 percent of digital media time spent. Why the massive jumps? More than 75 percent of all Americans who use the Internet (age 18+) now access digital content on both desktop and mobile devices, which is an increase from 68 percent from a year ago.
Mobile-only internet usage is also becoming more common, driven predominantly by Millennials, of which 21 percent are no longer using desktop computers to go online. Meanwhile, the 55-years-and-older consumer segment is actually the fastest growing faction of mobile users, increasing its combined multi-platform and mobile-only share of audience from 60 percent to 74 percent in the past year.